Nature Trust Malta - News
Fri, Mar 2, 2018
Nature Trust – FEE Malta  welcomes the  decision taken by the PA appeals Board  not to ​give the green light to further construction ​- an old people's home​ –  in Wied Ghomor​ valley.  Such a development​, had it gone ahead,​ would have ​dealt ​a fatal hatchet blow ​to yet another green corridor connecting to the rest of Malta's green areas.  Such corridors are important for our already endangered biodiversity and​ the construction of yet another development​ would have further threatened their survival.
NT- FEE Malta hope​s​ that this ​is just​ the first sign ​that​ the​ PA ​is truly mov​ing​ towards sustainable development and ​the ​protect​ion of​ our natural heritage from unsustainable development projects
The eNGO also welcomes the position taken by the Minister of Environment to grant Wied Ghomor protect​ion from further development.  The organisation ​believes that all valleys​ ​in our Islands should be protected both for their ecological value and also​ for​ their role in water conservation​.
Thu, Mar 1, 2018
Nature Trust – FEE Malta is raising funds to meet the demand for more hedgehog caution road signs in our busy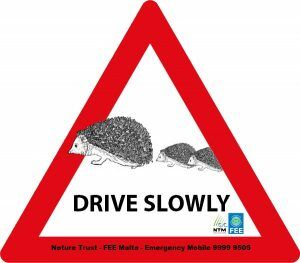 roads.
Our wildlife Rescue Unit rescues an average of 200 hedgehogs each year.  Some do not make it due to road kills and, we often find baby hedgehogs which require attention next to their dead mother on the tarmac.
We need to raise Eur 1500 by end April.  Help us raise these funds to install more caution signs.
Follow the link: http://www.zaar.com.mt/projects/hedgehogroadsigns/
Hedgehogs need your help urgently
Thu, Mar 1, 2018
Nature Trust – FEE Malta who has been supporting the residents of San Gwann, Swieqi and St Julian's in favour of protecting Wied Ghomor for over 2 years, hopes that the appeals tribunal will decide the case based on the common good – not just for the residents of the surrounding towns but for all Maltese residents and those yet to share our heritage in the future.
Wied Ghomor together with its tributary Wied il-Kbir is literally the last lung in an overcrowded North Harbour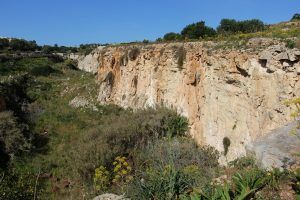 region which supports a third of the Maltese population alone.
It is about time that the Planning Authority stops appeasing developers by allowing ODZ land to be developed under the excuse that it is degraded. The quarry in caption which​,​ after just 15 years ​lying idle has already showed signs of natural colonization, could be very easily be rehabilitated into an adventure area – a much needed space for youth and adventurers of all ages. In a country which sadly ranks worst in Europe ​in having ​the highest obesity rates and consequential diseases, such spaces would encourage an active lifestyle and mitigate the pollution generated in the areas due to the high density ​of​ built-up areas – which are doomed to increase with the development of Villa Rosa area, the ex-ITS area and Paceville – all of which lie in the vicinity.
Tue, Jan 30, 2018
Nature Trust – FEE Malta is seriously concerned about the proposed development of agricultural land in various areas around Malta. In the last few days, NT-FEE Malta was made aware of two potentially large developments in the southern part of the island – an extension of the Bulebel Industrial Area on agricultural land and the construction of a fast food franchise outlet in Zabbar, in an area that also includes some agricultural land.
Besides the fact that land from ODZ is appearing to be systematically wiped off to be built for numerous projects, these potential developments on agricultural land also go against the Global Goals for Sustainable Development, adopted in September 2015 by 193 countries, including Malta.
Global Goal #2 aims to "end hunger, achieve food security and improved nutrition and promote sustainable agriculture."
Food security, as defined by the United Nations, exists when people have physical and economic access to sufficient, safe and nutritious food to meet dietary needs and food preferences for an active and healthy life.  Development of agricultural land places this concept at risk as the already limited agricultural sector will be compromised and reduced in size, rendering Malta less capable of producing food for its citizens and increasing the likelihood of a foreign dependency for food production, at a cost.
Targets within this goal state that by 2030 countries should end all forms of malnutrition by increasing agricultural productivity and incomes of small-scale food producers and ensuring sustainable food production systems.  One target also focuses on obesity. In the latest report drawn up by the United Nations, Malta is shown to perform quite poorly with staggering rates of obesity. It is quite ironic that land in ODZ is planned to be taken up by a fast food franchise that may contribute to the prevailing obesity epidemic.