Nature Trust Malta - News
Thu, Oct 11, 2018
With reference to the Report on the Sustainable Development Goals ranking issued recently, Nature Trust – FEE Malta notes sadly that our country has slipped eight places since 2017 and is falling behind other EU countries.
Although the economy of our Islands is today booming, one cannot neglect other areas that form part of the Sustainable Development Goals such as social issues, the well-being of society and the environment. Despite the work being done by various NGOs and also the President's Foundation for Well-Being of Society, which has been a leader in promoting the SDG targets for 2030, Nature Trust believes that, since the Government and national authorities appear not to have a serious political commitment to social and environmental issues, it should come as no surprise that we have lost our ground in the world rankings.
Malta could serve as a classic example of how to reach the targets of the SGD. Just as Malta once championed the issues of climate change at the United Nations, putting this issue higher on the agenda, the Island could have positioned itself to be a world leader again in achieving the Sustainable Development Goals through wise use of the economic benefits we have achieved.
Today, excessive and unsustainable development and the steady loss of green open spaces for families to enjoy, coupled with transport and traffic congestion, the spiralling cost of housing, obesity problems and lack of law enforcement on environmental protection, have become the order of the day. Economic gains made by a country should never be limited to providing a horizontal benefit.
The NGO urges our political parties to work on long-term strategies and not just 5-year programmes. Only in this way can we reach the UN targets and pass on a better life to future generations; otherwise, we will only be remembered as the generation promoting short-sightedness and avarice.
Fri, Mar 2, 2018
Nature Trust – FEE Malta  welcomes the  decision taken by the PA appeals Board  not to ​give the green light to further construction ​- an old people's home​ –  in Wied Ghomor​ valley.  Such a development​, had it gone ahead,​ would have ​dealt ​a fatal hatchet blow ​to yet another green corridor connecting to the rest of Malta's green areas.  Such corridors are important for our already endangered biodiversity and​ the construction of yet another development​ would have further threatened their survival.
NT- FEE Malta hope​s​ that this ​is just​ the first sign ​that​ the​ PA ​is truly mov​ing​ towards sustainable development and ​the ​protect​ion of​ our natural heritage from unsustainable development projects
The eNGO also welcomes the position taken by the Minister of Environment to grant Wied Ghomor protect​ion from further development.  The organisation ​believes that all valleys​ ​in our Islands should be protected both for their ecological value and also​ for​ their role in water conservation​.
Thu, Mar 1, 2018
Nature Trust – FEE Malta is raising funds to meet the demand for more hedgehog caution road signs in our busy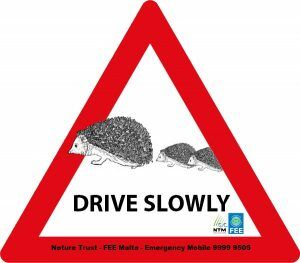 roads.
Our wildlife Rescue Unit rescues an average of 200 hedgehogs each year.  Some do not make it due to road kills and, we often find baby hedgehogs which require attention next to their dead mother on the tarmac.
We need to raise Eur 1500 by end April.  Help us raise these funds to install more caution signs.
Follow the link: http://www.zaar.com.mt/projects/hedgehogroadsigns/
Hedgehogs need your help urgently
Thu, Mar 1, 2018
Nature Trust – FEE Malta who has been supporting the residents of San Gwann, Swieqi and St Julian's in favour of protecting Wied Ghomor for over 2 years, hopes that the appeals tribunal will decide the case based on the common good – not just for the residents of the surrounding towns but for all Maltese residents and those yet to share our heritage in the future.
Wied Ghomor together with its tributary Wied il-Kbir is literally the last lung in an overcrowded North Harbour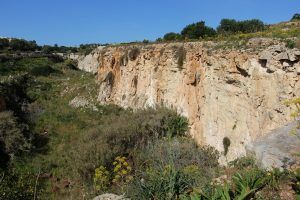 region which supports a third of the Maltese population alone.
It is about time that the Planning Authority stops appeasing developers by allowing ODZ land to be developed under the excuse that it is degraded. The quarry in caption which​,​ after just 15 years ​lying idle has already showed signs of natural colonization, could be very easily be rehabilitated into an adventure area – a much needed space for youth and adventurers of all ages. In a country which sadly ranks worst in Europe ​in having ​the highest obesity rates and consequential diseases, such spaces would encourage an active lifestyle and mitigate the pollution generated in the areas due to the high density ​of​ built-up areas – which are doomed to increase with the development of Villa Rosa area, the ex-ITS area and Paceville – all of which lie in the vicinity.