Nature Trust Malta - News
Thu, Aug 7, 2014
Press Release – Eight Environment NGOs condemn the way illegalities are ignored by the authorities
The Environment NGOs – Birdlife Malta, Flimkien għal Ambjent Aħjar, Friends of the Earth Malta, Gaia Foundation, Malta Organic Agriculture Movement, Moviment Graffiti, Nature Trust (Malta) and Ramblers Association urgently call upon the Malta Environment and Planning Authority and the Animal Welfare Department to take immediate action on the Montekristo Estate and address without further delay all illegalities and most urgent of all, the animal welfare issue
The ENGOs feel that in the case of animal welfare, this issue cannot wait any further since live animals are suffering while the authorities are dragging their feet. The more action is delayed, the more these animals are being affected and exposed to unnecessary and inhumane suffering.
The environment organisations feel that it makes no sense government to profess zero tolerance on illegalities and pass harsher laws for offenders to animal abuse when in the end the same authorities fail miserably to take action and fail to demonstrate the zero tolerance promised.
The Montekristo cases of illegalities have been ongoing for far too long and the NGOs feel that despite electoral manifesto commitments and promises by the relevant authorities to act, nothing tangible is being done while one government after another allows such illegalities to continue and increase.
Polidano group are already well known for their questionable ways on achieving their aims by bullying tactics. The NGOs question how 20 wild animals made it to Malta considering that they are internationally protected species whose trade is banned. A thorough investigation on how these animals were smuggled into Malta should be held before any permit process is started.
It ludicrous and rather rich that Polidano is blaming MEPA for the animals' inadequate cages. With 55 enforcement notices (2013 figures), it is obvious that this company feels that it is above the law.
The Animal Rights Parliamentary Secretariat has in the past done a sterling job with regards to the eventual banning of animal circuses in Malta. It is high time that the Secretariat also realises that the reasoning behind the same arguments that apply to circuses also apply to the confinement of animals in so called "zoos". Regardless of the number of generations that wild animals have been in captivity, captive-born wild animals do not lose the instincts and needs of wild animals. They retain their natural instincts to socialise and to roam freely. Zoos deny captive-born wild animals of their need to exhibit their natural behaviours. No matter how much they are taken care of, the fact remains that they would be in a similar situation as "a bird in a gilded cage".
The NGOs maintain that just like circuses, zoos should be banned from Malta as we do not have the land space, and in some cases the climate, that such wildlife require. The ENGOs strongly feel that it makes no sense to delay action further and abandon the animals in this so-called zoo to suffer.
To add insult to injury the Montekristo Estate was recently allowed to hold a trade fair, despite all illegalities on its site. It is deplorable that companies and authorities that claim green credentials supported this activity.
The eight ENGOs call on the authorities to demonstrate their commitment and resolve and act so Maltese citizens can again gain their trust in the authorities concerned.
7 August 2014
END
Wed, Aug 6, 2014
Press Release : Nature Trust (Malta) condemns the dumping of rubble on garigue in Comino
6 August 2014
Following the report on the Times of Malta re rubble dumped on the garigue in Comino, Nature Trust (Malta) would like to condemn such an action on a site that is a Natura 2000 sites.
The NGos calls on Mepa to take all measures so the culprits can be identified and made to pay for this disaster.   Unfortunately many working committees even those set up by Mepa over the years have not been able to help the conservation of this Island despite its ecological importance.
A sense of abandonment can be noticed not only on the garigue but also on other areas such as boats and sun beds out of control at Blue Lagoon, dumping of rubble and waste all over the Island and uncontrolled activities at San Marija Bay and many more
Nature Trust (Malta) hopes the authorities will take immediate action and not remain passive as they have been regarding Comino for the last decade.
Comino is today one of the 39 designated Natura 2000 sites for the Maltese Islands which means they are also of EU importance. This should make us proud but also responsible towards conserving our natural heritage
Wed, Jul 30, 2014
Press Release 29 July 2014 – Two loggerhead Turtles released after 9 months of rehabilitation
Nature Trust (Malta) Wildlife Rescue Team this morning realised two loggerhead Turtles after they had been for approximately nine months for rehabilitation at San Lucjan Centre in Marsaxlokk
Monster a 47 kg Turtle had been brought in with a hook in the mouth and nylon line in its intestines. Since the hook had been in the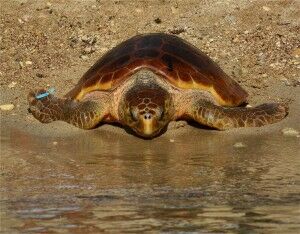 month for a long time an abscess had developed round the wound. On the other hand the nylon line took almost 8 months to come out after daily medication by the Volunteers of the Rehabilitation Unit of Nature Trust (Malta)
On the other hand Neil an eight year old turtle was brought in by a fisherman who found the turtle near Hurds Bank all covered with oil and full of barnacles indicating it has been floating and not eating for a long time. Neil spent 7 months under rehab after being de-oiled and cleaned and placed on vitamins to regain the necessary strength
The release was held at 8.30 am from the Dragonara Hotel Private Beach in St Julian's witnessed by Various VIPs such as the Us Ambassador of the United States and the Wife of the British High Commissioner, Hotel guests and adopters of these two turtles that participated in the Adopted a Turtle campaign were also Present. The Adopt a turtle is a campaign to collect funds that go towards the Medication of injured Turtles and also towards the Wildlife Rehabilitation Project Fund
NTM Executive President Mr Vincent Attard thanked all those that that had adopted Neil and Monster for their support and also all the volunteers of the Nature Trust Wildlife Rescue Team for their continuous dedication. Mr Attard said that Nature Trust is an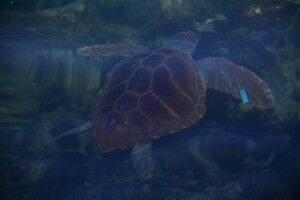 NGO committed to the protection of Maltese wildlife. Over the last few years various marine turtles, hedgehogs, chameleons, bats have been saved.   Thanks to Dr Grupetta and the Rehab unit turtles have been rehabilitated to health. These marine reptiles are often brought ashore suffering from hooks and nylon lines, swallowed plastic bags, hit by marine vessels or entangled in plastic litter. The NGO is now working towards setting up the first wildlife rehab centre in Malta. Mr Attard thanked the Ministry for the Environment for its support, MEPA for their cooperation and coordination in the rescue of protected wildlife, Malta Aquaculture Research Centre for the allocation of an area, tanks and food. Thanks also goes to the AFM Patrol boat Unit, the ALE, Animal Welfare Department, fishermen and members of the Public all who call NTM and/or the Environment Protection Directorate to report injured turtles . Special Thanks goes to the Dragonara Hotel for hosting the event
Finally Mr Attard appealed to all to report any injured turtles or dolphins that may be spotted at sea either to the Environment Protection Directorate at MEPA or to the Nature Trust Malta wildlife Rescue Team on Mobile 99210404 or 99999505. EPD would also like to be notified of sightings of these creatures
MEPA official Ms Carmen Mifsud spoke about the EU Life + Project MIGRATE. This EU project is aimed to collect data on the population dynamics of marine turtle and dolphins thorugh sightings from the public and through dedicated scientific studies. This data is crucial to be able to target better and specific conservation measures for such creatures. Presently the state the population is in is not known and this also includes the numbers of the individuals present locally. Further studies will also be done through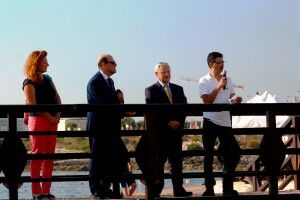 this project to try and find important areas for these creatures such as important feeding grounds and/or migratory routes. If these are found present they will be also be protected . Ms Mifsud appealed to all to report any sightings of such creatures to further make this project a success.
Dr Grupetta spoke of how he had started the turtle rehabilitation programme in 1999 since he nourishes a special interest for turtles. Dr Grupetta stated that Since the onset of this programme that has been possible with the help of the Ministry for Sustainable Development, the Environment and Climate Change namely the National Aquaculture Centre at Torri San Luciano, the Environment Protection Directorate of MEPA and NatureTrust more than 140 turtles have been released back to their natural environment after undergoing treatment, rehabilitation and in most cases, surgery. Turtles are evaluated and according to their situation and condition, a treatment programme is set involving all the therapy that is necessary to get each turtle back to a good state that ensures their survival in the natural environment. Diagnosis, treatment and surgery are carried out at St Simon Veterinary Clinic by Dr Gruppetta, the staff of the clinic and volunteers from NatureTrust. The volunteers from NatureTrust continue to dedicate attention to these injured turtles, feed and clean them regularly, as well as administer the therapy set for each individual during their stay at Torri San Luciano.
Thanks go to all the volunteers of NatureTrust, the employees of Torri San Luciano, staff at St Simon Veterinary Clinic and MEPA Officials for all their help in the last 15 years. Without the help of all these people, the turtle rehabilitation programme is not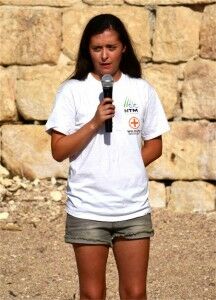 possible and the 140 specimen saved would have succumbed to disease and injury.
The Hon Minister Leo Brincat – Minister for Sustainable Development, Environment and Climate Change said "Our Ministry together with MEPA is working hard to facilitate the setting up of a Nature Trust Malta Wildlife Rehabilitation Centre with all the facilities for caring of local injured species.
This project will also be geared to help such wildlife in case of an oil spill. Meanwhile everything is being done to help Nature Trust Malta obtain EU funding for such a venture.
Minister Brincat praised Nature Trust Malta for having cared for turtles over the last 22 years while safeguarding their protection in Maltese waters.
Minister Brincat appealed to the general public to curb throwing of litter into the sea as this will lead to further marine pollution while jeopardising turtles' well being.
One now hopes that after this ordeal the two turtles will continue on a safe journey possibly to nest in the Mediterranean shores.
Marine Turtles are protected animals and in danger of extinction
Tue, Jul 15, 2014
A team of volunteers from HSBC Bank Malta – the Qawwi Group today dedicated some of their time towards works at the Xrobb L-Ghagin Nature Park.  The group carried out maintenance works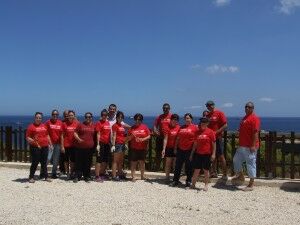 on the wooden fences close to the cliff areas.  Furthermore some of the staff also helped in the cleaning of the PV panels found on the sustainable building on the site.
A very big thanks to HSBC Qawwi team for their dedication and support