Nature Trust Malta - News
Fri, Sep 25, 2015
Nature Trust (Malta) calls on the government to put the Environment agenda high for the next budget vote for the year 2016.
For the last years, budgets have failed to address habitat and biodiversity protection. Funding for Natura 2000 sites has been lacking and the only work done was by NGOs. Despite MEPA having obtained EU funding to draft management plans for the designated Natura 2000 sites in the Maltese Islands, these still await approval some five years down the line. Furthermore, once such plans are approved, hopefully in the near future, a vote for the implementation of such plans is essential so these sites can be truly protected and conserved.
Nature Trust (Malta) feels that the way things have been moving it seems like the authorities are only hoping that NGOs try to seek EU funds to protect such sites rather than help in the conservation of these areas which is after all the duty of the same government to do this.
The NGO urges the Finance and Environment Minister to ensure that an adequate budget vote is present for the management of all Natura 2000 sites and for the research needed to set up Marine Protected areas which will be of benefit for the economy and society.
Nature Trust (Malta) also urges the government to commit to the environment since, to date, the environmental agenda has been at an all time low with ODZ applications becoming the order of the day and thus going far away from sustainable development.
Sun, Jul 12, 2015
A delegation made up of educators involved in the EkoSkola programme and the management of the Xrobb l-Għaġin Nature Park together with two Education Officers participated in an Erasmus+ Key Action 1

funded project in Slovakia which focused on exploring methodologies that promote Developing Education for Sustainable Development (ESD) in the curriculum and at Xrobb l-Għaġin Nature Park.
Developing Education for Sustainable Development (ESD) as a cross-curricular theme, as requested by the National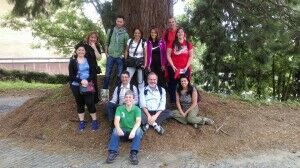 Curriculum Framework (NCF), does not merely involve finding environmentally related topics and inserting them in syllabi that can accommodate them. This line of thinking would traditionally relegate ESD solely to science subjects, geography and maybe social studies. Such, traditional misconceptions about ESD still linger (and hinder) its seamless integration. As outlined in all the major conferences, ESD is essentially a methodology that equips learners with skills that will help them become functional citizens.
Nevertheless, changing the dominant pedagogy in schools is not an easy task as it involves a change in the mindsets of teachers, school administrators and education authorities. Research has shown that addressing this change in the way we view teaching and learning is the surest way of successfully implementing ESD. For these last twelve years, Nature Trust (Malta) has been systematically adopting this whole institution strategy through its international ESD programme: EkoSkola.
With the aim of taking this approach a notch further, Nature Trust (Malta) partnered with BIOSPEKTRUM (a Slovakian NGO) in an EU's Erasmus+ KA1 project called Catering for All and organised a training visit to Banská Bystrica in Slovakia. The Maltese delegation was made up of Lorraine Anne Dimech Magrin (EO Home Economics), Mariangela Schembri Meli (EO Early Years), Vince Attard (Nature Trust President), Prof Paul Pace (Director CEER), the six EkoSkola teachers and the teacher based at Xrobb l-Għaġin Nature Park. The visit was an opportunity to share and exchange experiences in the integration of ESD in nature park management, Home Economics and across the Early Years sector.
The themes explored during the visit included: (a) outdoor education as a means of integrating various dimensions of sustainability; (b) early childhood experiences leading to sustainable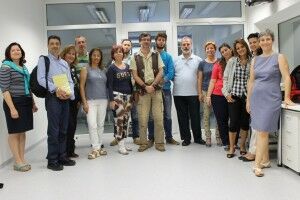 choices; (c) sustainable food consumption; (d) non-formal ESD initiatives in the community and (e) outdoor learning and experiences for all. Besides visits to schools, the delegation also visited the Forest Research Institute at Zvolen and the Faculty of Natural Sciences of the Matej Bel University. The Maltese and Slovak partners reviewed and discussed specific examples of methodologies and technologies adopted with learners of different ages and in formal and non-formal settings. Meetings also focused on finding ways how nature parks are promoted to attract more visitors and enhance learning by catering for their different learning needs and abilities.
During the visit, Mr Attard and Prof Pace met Dr Jarmila Kmetova (Dean of the Faculty of Natural Sciences) and Ing Marek Drimal (Head of the Department of Environmental Management) both from the Matej Bel University to consolidate collaboration links with Nature Trust and CEER. The entities plan to collaborate in the hosting of Slovak students at the Xrobb l-Għaġin Nature Park and Sustainable Development Centre, extending study visits to other EOs and practicing teachers, developing ESD educational material and supporting the development of ESD training programmes.
A third training experience in collaboration with BIOSPEKTRUM, aimed at improving organisation and management at Nature Trust Malta is also due soon.
This training experience was only made possible through European Union Programmes Agency which funds were awarded under the Erasmus+ Key Action 1: Learning Mobility of Individuals programme. Thanks also go to Mr Gaetano Bugeja (Director – Curriculum Management) for authorising the participation of the Maltese educators and to Dr Judita Tomaskinova and Monika Rakaiova, the Slovak partners from BIOSPEKTRUM who organised all the training programmes.

Fri, Jul 10, 2015
Our Natural Environment is under rape
Nature Trust is deeply appalled by this criminal act on our natural heritage where a protected species of indigenous tree, the Silvery-leaved Poplar, Populus abla, Sigar tal-Luq was ringed thus causing this magnificent tree to die.
These species of tree is one of the very few strictly riparian (valley-bed based flora) trees, other rare species being the Narrow-leaved Ash, Narrow-leaved Elm, and the two species of Willows, the Mediterranean and White Willows. The Silvery-leaved Poplar does not occur in every valley in the Maltese islands, occurring mainly along narrows strips in the south central and centre of the island, and in one valley in Gozo. To make things more challenging for this species locally, practically all trees of this species in Malta are male, so they can only reproduce vegetative via their roots, and they need space and free soil to do so. Poplars are deciduous species, they shed their leaves in winter, so they provide shade in summer, and allow enough sunlight to enter the surrounding environment in winter. Due to its scarcity and restricted habitat, the Silvery-leaved Poplar is listed in Schedule I of the Malta Tree Regulation LN200 of 2011.
Nature Trust urges that whoever has any information related to this incident to report to the authorities. It is about time our natural environment is given the importance it deserves by governments and national authorities. Despite existing legislation very little is done to preserve the few remaining areas our Islands have. It is time our politician set up the long promised Environment Police or wardens to patrol our natural sites and apprehend environmental terrorists who enjoy destroying anything that is of ecological value
Sun, Jun 21, 2015
Mr Green, a Swedish online casino based in Malta, has become one of the main supporting partners in the Turtle Rehabilitation Centre project being run by Nature Trust (Malta) as part of its phase two projects at Xrobb L-Ghagin Nature Park.
Nature Trust (Malta) has recently submitted an application to MEPA for the phase two project which will include the Wildlife Rehabilitation Centre for various local wildlife, biodiversity and marine ecology education centre and research labs for students and visitors seeking Education in Sustainable Development.
Mr Vincent Attard – Nature Trust (Malta) Executive President – commended Mr Green for this CSR partnership towards a project which will help save further local wildlife and serve to raise awareness and educate the public on the importance of our local biodiversity.
As in Phase One, the second phase will continue building on energy efficiency for the building together with renewable energy. Mr Attard said that NTM is grateful to Mr Green for believing in and supporting such an important project towards our local natural heritage.
At present the NGO is carrying out regular rescues of turtles, hedgehogs, bats, chameleons and many more protected species. The NGO will be applying for EU funds for this project and needs to raise the co finance part which will amount to another €240,000. He thanked also the Ministry for Sustainable Development, Environment and Climate Change, MEPA and the Malta Aquaculture Research centre for their support
Mr Wanghammar – Chief Execuitive Officer for Mr Green who donated €10,000 towards this project said "We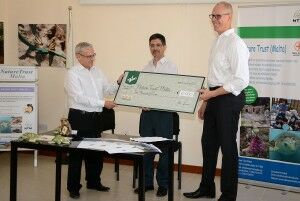 believe we have an obligation to act in a socially responsible manner towards the environment we operate in. Therefore a big part of Mr Greens CSR strategy for this year is to work with a selection of local organization that share our values and beliefs."
The fact that today a leading eNGO like Nature Trust and a company at the forefront in the field of eGaming like Mr Green are joining forces for the Turtle Rehabilitation Project, this sends a clear and strong message that when Government,Volunteers and the Private Sector work in tandem they will be helping directly our country's biodiversity" stated Minister for Sustainable Development, the Environment and Climate Change Leo Brincat.