Nature Trust Malta - News
Tue, Jul 15, 2014
A team of volunteers from HSBC Bank Malta – the Qawwi Group today dedicated some of their time towards works at the Xrobb L-Ghagin Nature Park.  The group carried out maintenance works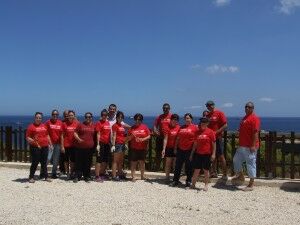 on the wooden fences close to the cliff areas.  Furthermore some of the staff also helped in the cleaning of the PV panels found on the sustainable building on the site.
A very big thanks to HSBC Qawwi team for their dedication and support
Fri, Jun 6, 2014
Staff members and friends of the Radisson Blu Resort St. Julian's teamed up together to help Nature Trust (Malta) in a clean-up activity at the Pembroke Natura 2000 site.
This was part of a Responsible Business activity for the hotel staff who decided to give a helping hand to the environment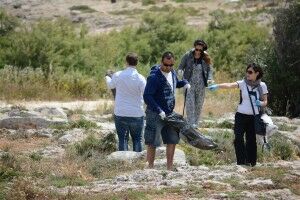 close to their Hotel and remove waste left by irresponsible persons who visit the site especially on weekends.
The Pemroke Natura 2000 site today attracts many tourists mainly from the Nordic countries who go to walk along the recently restored Heritage Trail and enjoy the fauna and flora and history of the site.  Pembroke Natura 2000 site is rich in orchids and endemic plants, has a rich marine eco system and hold various military structures such as those of the Victorian Military and Knight of St John period.
The Hotels Responsible Business Co-ordinator, Dorianne Formosa said it is great to organise such activities to keep our areas clean and to discover what Malta has to offer, however it is sad to walk around in green area in Malta and see a large amount of bulky refuse and other waste.
In all 180 Kgs of waste were collected including BBQ material, furniture, glass and plastic bottles etc
Nature Trust (Malta) Executive President- Mr Vincent Attard thanked the Radisson Blu Resort team for their dedication towards the environment.  He added that it is commendable to see hotel staff contribute towards our natural heritage conservation especially when such sites also attract a large number to eco tourists.
Fri, Jun 6, 2014
World Environment Day and World Ocean Day
This week marks the commemoration of two important aspects of our natural heritage – World Environment Day (5th June) and World Ocean Day (8th June). Nature Trust (Malta) feels that both local terrestrial and marine environments can benefit from
greater planning and attention by the authorities. 
Over the past years, NTM was responsible for numerous clean-up campaigns in areas that are protected and of enormous scientific or ecological interest due to the unique habitats and biodiversity present in the area.  Litter of all shapes and sizes and from a variety of waste streams have constantly been found raising the point that public awareness about the harmful effects of irresponsibly discarded litter is poor. 
Unfortunately, NTM has had to repeat clean-ups in the same locations more than once since, despite removing litter from an area, it quickly becomes a dumping ground again.  For this reason, NTM is urging the government to deploy Green Wardens in Special Areas of Conservation (SACs) and Special Protection Areas (SPAs) that make up the Natura 2000 network around the Maltese Islands. 
From a management perspective, MEPA is also encouraged to develop a strategy in order to control alien species that are taking over the local countryside.  Such alien species, such as the Castor Oil (Ricinus communis) compete with local biodiversity and become invasive.
With regards to seas, NTM is also urging the government to pay more attention to Maltese waters, promote awareness of the Marine Protected Areas that exist, encourage citizens to take ownership of these areas and increase MPAs to include areas rich in reefs and sea caves.  However, declarations are not enough;  action is necessary so that MPAs are controlled and managed in a sustainable way that meets the aims of such conservation areas.
Tue, May 20, 2014
Hedgehog mothers released on Mother's Day
Mother's Day was a special day for two hedgehogs who had been under rehab and were released into the wild with their babies.  The hedgehogs, who were brought in because of injuries, were released on Sunday after having spent some time in rehabilitation with Nature Trust (Malta)'s Wildlife Rescue Team.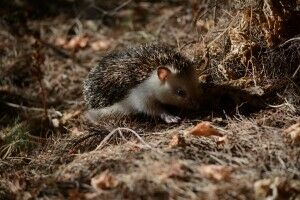 The first female was rescued after being found with a large lesion on its face probably caused by a larger animal or garden equipment.  While in rehabilitation  Choppy, as it was named, gave birth to four hoglets, one of which sadly died.  The other three hoglets named Strawberry, Rasberry and Blueberry, were raised by the mother.  It was a wonderful surprise for the volunteers to have these babies around.  The hoglets suckled on the mother and at five weeks they were introduced to solid food.  The other mother named Mo was taken into rehabilitation with her already born hoglets.  The hedgehog family was found by construction workers who were digging the ground when they accidentally came across them.  One of the young was injured and died suddenly, however the mother who was also injured and three hoglets survived the ordeal and recovered well in rehabilitation.  "It was a pleasure to rehab these mothers and their young, one could learn a lot about motherhood from this experience.  The mothers were totally dedicated to raising their young", said a  NTM volunteer.
The volunteers keep interaction as minimal as possible so as not to change the behaviour of the hedgehogs under rehabilitation.  Hedgehogs are nocturnal animals who spend their nights foraging, covering a large area.  Hoglets on the other hand sleep all night and feed throughout the day so as to work in synchronisation with the mother's feeding behaviour.  This behaviour is also carried out when under rehabilitation and one can see that although the young are left alone, they can be quite safe as long as the mother makes a safe nest unreachable from predators.
Hedgehogs can be found all around Malta and Gozo.  Due to urbanisation, heavy traffic and degradation of our natural environment, hedgehogs are endangered.  The NGO urges the public to drive carefully especially on country roads and lanes, where many of these animals are run down by vehicles.  The NGO is also working to launch the HSBC Adopt a Hedgehog campaign which will help raise funds for medication and food while raising awareness about hedgehogs.  The campaign will also be introducing the 'Attention Hedgehogs' signs which will be erected on roads which frequently have hedgehog accidents.
Nature Trust (Malta)'s Wildlife Rescue Team is a team of volunteers who rescue local injured wildlife.  Anyone who finds an injured wild animal can call on 99422086/99999505.  The NGO can also be contacted on info@naturetrustmalta.org or by visiting the Facebook page.  Those wishing to give a donation which will go towards the upkeep of the rehab animals and the new rehab centre can do so on HSBC account no 039 069000 009 or by post to P.O. Box 9, Valletta, VLT1000.  The NGO thanks the public for its kind support.