Activities
Activities are organized regularly by the youth section and are also quite varied, suiting the likes of all members and non-members.
Guided Walks and Hikes are by far the most common actitivies and take place in all parts of the archipelago from Gozo and Comino to Il-Maqluba, Pembroke or Majjistral Nature Park, just to mention a few.
Also common are boat trips and kayaking trips, both of which are done in the summer months. The boat trip usually involves a sightseeing tour around picturesque areas of the Maltese Islands and are accompanied by pauses to swim in these areas. Kayaking involves the use of two seater kayaks with a fully qualified instructor.
Abseiling in places like Wied iz-Zurrieq are also quite popular activities with NTM.
Also organized by Nature Trust are a number of site visits to the Nature Reserves managed by the organization and also talks about the environment of our islands.
Trips outside Malta and Gozo are sometimes also organized, particulary, with our Sicilian neighbours where we collaborate with Legambiente, an Italian NGO, for a weekend trip to Sicily, visiting their reserves and also relaxing in the Italian sun.
On the online calendar one may see the upcoming events whilst in the photo gallery past activities can be seen.
Activities are open to all members of the public and usually against a fee which would serve to make the activity possible and maintain the site used. Members of the organization are usually given a discount.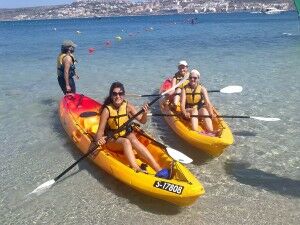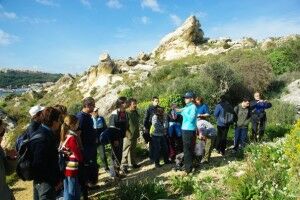 OUTDOOR EDUCATIONAL ACTIVITIES FOR STUDENTS 2010-2011
Environmental education is considered to be one of the main pillars of Nature Trust (Malta) and as a non-profit environmental NGO it has dedicated decades of work to extend awareness to all age groups. Its programmes are focused both on inhouse education through the Ekoskola Programme and also outdoors by its regular educational walks held in the countryside and in protected areas.
Nature Trust (Malta) believes that awareness is the first step towards appreciation of nature which can then lead to a more in-depth study of our surroundings, its biodiversity and all the environmental issues we face as a nation and as part of the earth. Such an appreciation aims to lead the student, and the teacher, towards a better understanding of our relationship with nature and the need for better conservation and sustainable use of all resources.
The walks are usually led by a licensed guide who has worked with students of all ages over the past years as part of NTM's commitment towards nature protection and education. The walks also serve as physical exercise for the student allowing for some fresh air and movement whilst using the countryside as an outdoor classroom. Walks can be tailor-made for different age groups and can also include other sites not mentioned in the list above.
Walk 1: Wied Għollieqa Nature Reserve (near the University of Malta)
Activity Fee: € 3
Walk 2: Il-Qammieh (Mellieħa)
Activity Fee: € 3.50 (includes donation for Red Tower Visit)
Walk 3: Kunċizzjoni/Ġnejna
Activity Fee: € 3
Walk 4: Għar il-Kbir/Clapham Junction
Activity Fee: €3
Walk 5: Il-Maqluba/Wied iż-Żurrieq
Activity Fee: €3
Walk 6: Kemmuna
Activity Fee: €8*
Walk 7: Dwejra Heritage Park Gozo
Activity Fee: € 1.5