On Tuesday 5th September Nature Trust Malta released 3 hedgehogs in the presence of Minister Herrera and some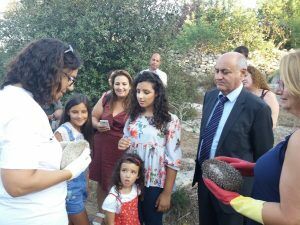 members of the Nature Trust Wildlife Rescue volunteers together with the family of Christina Magrin – winner of the Junior Eurovision Contest 2016.
Two of the hedgehogs were born in rehab from a mother hedgehog who was on rehab after she was found by Christina and her sister Karla Magrin . They called Nature Trust Rescue and it was discovered that the hedgehog was in fact blind from one eye. Under vet's orders the hedgehog could not be returned to the wild due to her permanent disability. A few weeks later while recovering and in rehab – it gave birth to two hoglets. These hoglets were kept with their mum who nurtured them until they were independent . The hoglets were trained to eat natural food such as snails and insects. At 24 weeks they were deemed old enough to be released in the wild. Another adult hedgehog which was rescued with a minor injury the week before and which had recovered after medication, also joined the release. All 3 hedgehogs were released in the Wied Ghollieqa nature reserve .
Minster Hererra congratulated Nature Trust – FEE Malta on this laudable initiative. He added that it was indispensable for the future of our beautiful country to preserve at all costs our local fauna
Nature Trust – FEE Malta reminded that the Algerian Hedgehog which is native to the Maltese islands is a protected species and therefore it is illegal to keep as a pet . During the present year already various hedgehogs have been rescued by the Wildlife Volunteers and assisted by the Voluntary Vets with the NGO. NT-FEE Malta appealed to the public not to remove hedgehogs unless injured as hedgehogs seen could be mothers out hunting during the night to feed their young
Leave a Comment