A delegation made up of educators involved in the EkoSkola programme and the management of the Xrobb l-Għaġin Nature Park together with two Education Officers participated in an Erasmus+ Key Action 1

funded project in Slovakia which focused on exploring methodologies that promote Developing Education for Sustainable Development (ESD) in the curriculum and at Xrobb l-Għaġin Nature Park.
Developing Education for Sustainable Development (ESD) as a cross-curricular theme, as requested by the National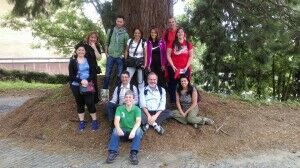 Curriculum Framework (NCF), does not merely involve finding environmentally related topics and inserting them in syllabi that can accommodate them. This line of thinking would traditionally relegate ESD solely to science subjects, geography and maybe social studies. Such, traditional misconceptions about ESD still linger (and hinder) its seamless integration. As outlined in all the major conferences, ESD is essentially a methodology that equips learners with skills that will help them become functional citizens.
Nevertheless, changing the dominant pedagogy in schools is not an easy task as it involves a change in the mindsets of teachers, school administrators and education authorities. Research has shown that addressing this change in the way we view teaching and learning is the surest way of successfully implementing ESD. For these last twelve years, Nature Trust (Malta) has been systematically adopting this whole institution strategy through its international ESD programme: EkoSkola.
With the aim of taking this approach a notch further, Nature Trust (Malta) partnered with BIOSPEKTRUM (a Slovakian NGO) in an EU's Erasmus+ KA1 project called Catering for All and organised a training visit to Banská Bystrica in Slovakia. The Maltese delegation was made up of Lorraine Anne Dimech Magrin (EO Home Economics), Mariangela Schembri Meli (EO Early Years), Vince Attard (Nature Trust President), Prof Paul Pace (Director CEER), the six EkoSkola teachers and the teacher based at Xrobb l-Għaġin Nature Park. The visit was an opportunity to share and exchange experiences in the integration of ESD in nature park management, Home Economics and across the Early Years sector.
The themes explored during the visit included: (a) outdoor education as a means of integrating various dimensions of sustainability; (b) early childhood experiences leading to sustainable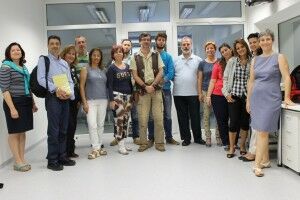 choices; (c) sustainable food consumption; (d) non-formal ESD initiatives in the community and (e) outdoor learning and experiences for all. Besides visits to schools, the delegation also visited the Forest Research Institute at Zvolen and the Faculty of Natural Sciences of the Matej Bel University. The Maltese and Slovak partners reviewed and discussed specific examples of methodologies and technologies adopted with learners of different ages and in formal and non-formal settings. Meetings also focused on finding ways how nature parks are promoted to attract more visitors and enhance learning by catering for their different learning needs and abilities.
During the visit, Mr Attard and Prof Pace met Dr Jarmila Kmetova (Dean of the Faculty of Natural Sciences) and Ing Marek Drimal (Head of the Department of Environmental Management) both from the Matej Bel University to consolidate collaboration links with Nature Trust and CEER. The entities plan to collaborate in the hosting of Slovak students at the Xrobb l-Għaġin Nature Park and Sustainable Development Centre, extending study visits to other EOs and practicing teachers, developing ESD educational material and supporting the development of ESD training programmes.
A third training experience in collaboration with BIOSPEKTRUM, aimed at improving organisation and management at Nature Trust Malta.  This mobility focused on discussing and sharing concerns, difficulties encountered, delegation of managerial work and relate more on a European dimension rather than national, thus expanding dissemination, job sharing, provide varied learning experiences and increase in outreach and raising environmental awareness and concern amongst the population. Thanks to EUPA for their support and making this mobility possible and thanks also go to Dr Judita Tomaskinova and Ms Monika Rakaiova, BIOSPEKTRUM Chairwoman.
This training experience was only made possible through European Union Programmes Agency which funds were awarded under the Erasmus+ Key Action 1: Learning Mobility of Individuals programme. Thanks also go to

Mr Gaetano Bugeja (Director – Curriculum Management) for authorising the participation of the Maltese educators and to Dr Judita Tomaskinova and Monika Rakaiova, the Slovak partners from BIOSPEKTRUM who organised all the training programmes.
Leave a Comment