Mr Green, a Swedish online casino based in Malta, has become one of the main supporting partners in the Turtle Rehabilitation Centre project being run by Nature Trust (Malta) as part of its phase two projects at Xrobb L-Ghagin Nature Park.
Nature Trust (Malta) has recently submitted an application to MEPA for the phase two project which will include the Wildlife Rehabilitation Centre for various local wildlife, biodiversity and marine ecology education centre and research labs for students and visitors seeking Education in Sustainable Development.
Mr Vincent Attard – Nature Trust (Malta) Executive President – commended Mr Green for this CSR partnership towards a project which will help save further local wildlife and serve to raise awareness and educate the public on the importance of our local biodiversity.
As in Phase One, the second phase will continue building on energy efficiency for the building together with renewable energy. Mr Attard said that NTM is grateful to Mr Green for believing in and supporting such an important project towards our local natural heritage.
At present the NGO is carrying out regular rescues of turtles, hedgehogs, bats, chameleons and many more protected species. The NGO will be applying for EU funds for this project and needs to raise the co finance part which will amount to another €240,000. He thanked also the Ministry for Sustainable Development, Environment and Climate Change, MEPA and the Malta Aquaculture Research centre for their support
Mr Wanghammar – Chief Execuitive Officer for Mr Green who donated €10,000 towards this project said "We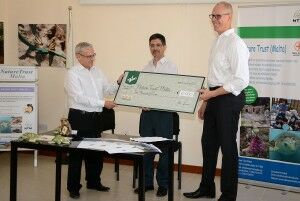 believe we have an obligation to act in a socially responsible manner towards the environment we operate in. Therefore a big part of Mr Greens CSR strategy for this year is to work with a selection of local organization that share our values and beliefs."
The fact that today a leading eNGO like Nature Trust and a company at the forefront in the field of eGaming like Mr Green are joining forces for the Turtle Rehabilitation Project, this sends a clear and strong message that when Government,Volunteers and the Private Sector work in tandem they will be helping directly our country's biodiversity" stated Minister for Sustainable Development, the Environment and Climate Change Leo Brincat.
Leave a Comment